4
November 19, the first "World Internet Conference" will be celebrated in China Water - opened the curtain Wuzhen. Organizers are China Guoxin Office official sector and government in Zhejiang Province. The conference theme is "interoperability share cohabitation." Also attending the meeting there were more than a thousand, from nearly one hundred countries and regions. It is the largest and highest level of Internet Conference organized by the Chinese government.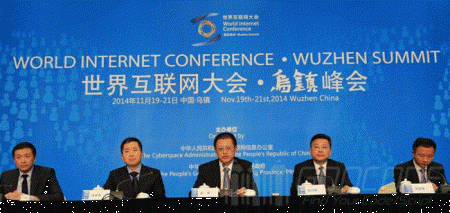 The General Assembly "interoperability • Shared cohabitation" as the theme, set up 15 sub-forums, covering all areas of cyberspace as a new media, cross-border e-commerce, network security, rule of law and other issues in cyberspace.
Reported that the number of foreign guests accounted for half of the participants, including former Irish Prime Minister Bertie Ahern, Russian presidential aide Igor Xiaogeliefu, president and CEO, Information Technology Industry Council, Dean plus multinational corporations responsible for foreign dignitaries and representatives of international organizations Rumsfeld, the Internet assigned names and president of digital agency Fadi as well as the United States, Cisco, IBM, Google, Qualcomm, Intel, Apple, Oracle, Microsoft, face book, etc. people.
As for China, the Chinese three Internet giants, Chairman of the Board of Directors of Alibaba Jack Ma, Chairman of the Board of Directors and Chief Executive Officer Ma Tencent and Baidu founder Robin Li, chairman and chief executive officer will attend the meeting.
Obviously, in a country unable to access Google, Facebook, Twitter, YouTube and Instagram and other world-renowned website on "World Internet Conference" quite ironic, perhaps the organizers also take into account this point. According to the BBC Chinese news report, during the World Internet Conference held in Chinese organizers for participants outside the wireless network can browse the website for all official shielded by China, to host the World Internet Conference Wuzhen all visiting guests, reporters, and even ordinary visitors have found that they can use Google, Facebook, Twitter, YouTube and other original inaccessible in China international social networking sites. Not only that, including the BBC Chinese network, Deutsche Welle, New York Times Chinese network, including the Wall Street Journal Chinese net long been China's foreign media websites shielded so you can freely access the browser.
However, according to the BBC Chinese understand that only registered as Wuzhen dedicated wireless network iWifi-Wuzhen can enjoy such "network privileges", because during November 19 -21 World Internet Conference held in China to host the official suspended Wuzhen dedicated wireless network iWifi-Wuzhen network management measures. However, to register for iWifi-Wuzhen this private wireless network, users must register to use my mobile phone number in the landing page for a verification code before they can be landed.
iWifi is the summit on the eve of Wuzhen, China Telecom special set by Chinese state-owned telecommunications companies, during the meeting of 50,000 people at the same time ensure that the Internet is no pressure. It is understood that interim measures would ban the NMS with the end of the summit Wuzhen stopped on Friday (21 May), but covering the whole area of iWifi Wuzhen will permanently offer free service after the meeting.