40
1 Easy Post Display
Feature:
Support both shortcode and widget: multiple shortcodes and widgets at the same page.
Support Post, Page and Custom Post
Ajax support
Hide Image Feature
When No feature Image set you could – show default image – show custom image upload by you – show only text
2 Popular Posts Tabbed Widget for Jetpack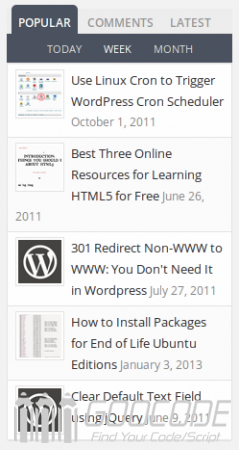 Shows a tabbed widget for most popular, most commented and latest blog posts. Most popular posts tab uses data from Jetpack Stats module.
3 Snazzy Archives
Snazzy Archives is a visualization plugin for your WordPress site featuring an unique way to display all your posts. Your archive page will never be boring again!
4 WordPress Popular Posts
5 Contextual Related Posts
Contextual Related Posts is a powerful plugin for WordPress that allows you to display a list of related posts on your website and in your feed.
6 Yet Another Related Posts Plugin (YARPP)
Displaying pages, posts, and custom post types related to the current entry, introducing your readers to other relevant content on your site.