1
The year is approaching, it is almost time for just the past year to make a summarized. Not long ago, Apple announced the iTunes Store application in 2014, the annual selection of games. The list is divided into iPhone, iPad two platforms, each has 1 best, 1 excellent, 25 models featured. Currently, users can find the complete list in iTunes, App Store focal figure.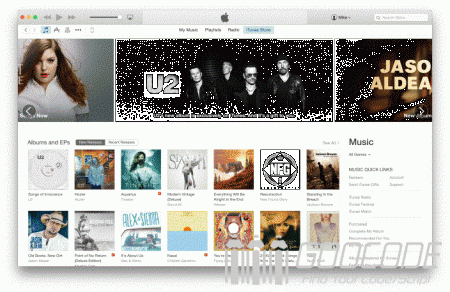 US District iPhone side, the best application year is "Elevate", outstanding application is "Hyperlapse from Instagram", Game of the Year is "Threes!", The game is excellent, "Rio's wealth."
US District iPad side, the year is the best application "Pixelmator", outstanding application is "Storehouse", Game of the Year is Monument Valley, excellent game Blizzard "Hearthstone legend."
In addition, Apple also announced the iPhone and iPad application downloads and box office list. On the iPhone Heads Up!, Facebook Messenger and Clash of Clans are the most popular paid applications, the most popular free applications and application box office champion. respectively on the iPad is Minecraft - Pocket Edition, YouTube and Clash of Clans.
List display, Facebook launched this chat application software is the highest 2014 free downloads applications, WhatsApp, Snapchat and Instagram and other social networking software are ranked second. Minecraft game software for two consecutive years to become the most popular paid software, took the 7 Minute Workout and Football Manager Handheld title.
Best iPhone and iPad applications list, the game software Clash Of Clans and Candy Crush Saga top. Clash Of Clans is a popular war game, the majority of iPad users love, and Candy Crush Saga is the iPhone user's favorite puzzle game. Classic game Operation Grand Theft Auto: San Andreas, puzzle game Cut The Rope 2 and Kim Kardashian (Kim Kardashian) game of the same name in Hollywood have entered the ranks of the top ten, including Kim Kardashian ranked eighth game of the same name in Hollywood .
In addition to the App application, Apple iTunes Store Awards in the year, has released its annual best music, movies, TV shows, books, etc., the following is a detailed list.
Application
-iPhone Annual application: Elevate - Brain Training
-iPhone Game of the Year Application: Threes (small 3 legend)
-iPad Annual application: Pixelmator
-iPad Annual gaming applications: Monument Valley "Monument Valley"
Music
- Best Artist: Beyonce
- Best Album: Taylor Swift "1989"
- Best Song: Yiqi · Ya Sali Fancy (feat Charli XCX.)
- Best New Artist: Sam Smith
The film
- Best Production: "Guardians of the Galaxy."
- Best Family Film: "Le tall movie" (The Lego Movie)
- Best Director: Richard Linklater
- Best explore the film: "bland child" (Obvious Child)
Television program
- Annual TV programs: Fargo
- Best Performance: "True Exploration" (True Detectiv) in the first quarter
- Best explore: "spy film Heroine / Glory female" (The Honorable Woman)
- Best Breakthrough Program: "Basic and Peel" (Key & Peele) in the fourth quarter
Books
- Best Fiction: All the Light We Can not See (Author Anthony Doerr)
- Best Non-fiction: The Short and Tragic Life of Robert Peace