5
According to Google blackboard reports, Google said in a statement that will allow mainland China's mobile application developers, through Google Play app store, issue their own applications to Android users around the world.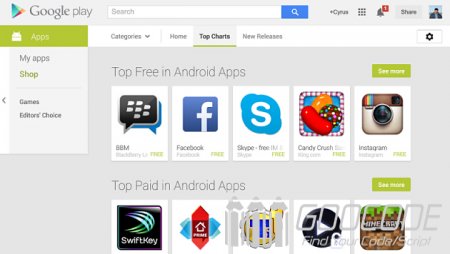 Google Play Store is the digital content Andrews ecological construction of small internal portal, covering mobile application software, movies, television, digital newspapers, games, music and so on. Play Store corresponds Apple iOS eco iTunes store, Google is now almost the only way to direct revenue from the Android operating system.
It should be noted that the Google Play store opening target, is mainland China's mobile application developers, they can sell their applications in the broader global market, but consumers in mainland China, is still unable to access the Play Store.
In the collection, the revenue Google Play Chinese developers produce will be paid to the developer's bank account in China through local dollar wire transfer. In addition, as Chinese developers are not resident in the United States, and therefore do not need the income to pay taxes to the US government.
The following is the full text of Google statement:
Chinese developers can provide users paid applications to Google Play 130 countries worldwide
Posted by: Ellie Powers, Google Play product manager
Google Play is an Android lets users find and purchase their favorite mobile applications and games for the world's largest application store, the rapid growth in the global ecosystem. Over the past year, we have expanded to 60 countries, so that application developers can register as Google Play businesses, including the newly supported countries, including Lebanon, Jordan, Oman, Pakistan, Puerto Rico, Qatar and Venezuela.
Google Play as part of continuous improvement efforts, we are pleased to announce an increase in Chinese support for businesses, so that China's developers to sell applications to Google Play users in 130 countries. Chinese developers can now offer a variety of free and paid profit model applications, including in-app purchases and subscriptions. Revenue generated in the Google Play will be paid to the developer's bank account by China's dollar wire transfer.
If you develop Android applications in China, and hope that through the Google Play application extended to the world, please visit play.google.com/apps/publish and build your Google Play developer account. If you want to pay for the sale of products and applications within the application, you need to sign up for a Google Wallet merchant account set up through Google Play Developer Console in the "revenue" page. Upload application, you can set the price the developer console, then you can receive a revenue report, you will get revenue through wire transfer.